This was bought as an unfinished project with 90 percent of it stripped, the engine in the boot and with all the right RS parts and numbers.
Ziebarted from an early point in its life the shell appeared to be in a fairly reasonable condition.
Once the ziebart was removed the  extent of corrosion could be seen.
A reasonable shell but still far from perfect requiring the usual top plates, wings, front valance, rear valance, passenger side floor pan and a few small repairs to the bottom of the A-posts.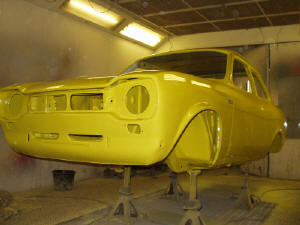 With the fabrication and repairs complete the shell was refinished with a liberal coating inside and out of its original Daytona Yellow.
With the shell completed the suspension components were stripped and cleaned and treated to a liberal coating of 2k gloss black
With the panels aligned the distinctive RS2000 decals were added and the re-fit started.
As the suspension went on new bushes, brake lines, brakes etc were added.
The original bumpers, handles etc were re-chromed, the wheels diamond cut and new badges sourced to complete the concours finsh
The finished engine bay with standard refreshed engine sporting many new and restored components.
A new set of seat covers were purchased from Aldridge Trimmings, along with a  new rear shelf, kick panels, carpet and headlining . The seat frames were stripped and refinished before re-upholstering and the wood trim carefully restored and lacquered.
The finished RS2000
Comments
comments
WANT TO KNOW MORE?
We do regular updates on our facebook page
Just click like to make sure you stay in touch!