This Mk2 RS200 has been bought to us to give it a full ground up rebuild, sporting various mods the RS will be returned to standard and refinished in Diamond white .
The plan is to strip the RS down to a bare shell and send for blasting, replace all the incorrect parts, and refreshwith as many original Ford items as possible.
The interior though in good condition has all been retrimmed in aftermarket materials so will be retrimmed in the correct Beta cloth along with new door cards etc from Aldridge trimming.
The aftermarket electric tilt and slide sunroof will also be removed and the roof skin replaced .
In an attempt to reduce the cabin noise vast ammounts of sound proofing and sound deadening pads have been glued into the interior.
Many hours later with a hot air gun, blow torch and zip wheel the inside of the cabin is ready for media blasting.
The underside of the Escort and boot area have also been heavily coated in sealer and underseal which is going to need to be removed before it can go to blasting.
With the inside and the underside stripped and the wings carefully removed the Rs2000 will be shipped to the media blasters.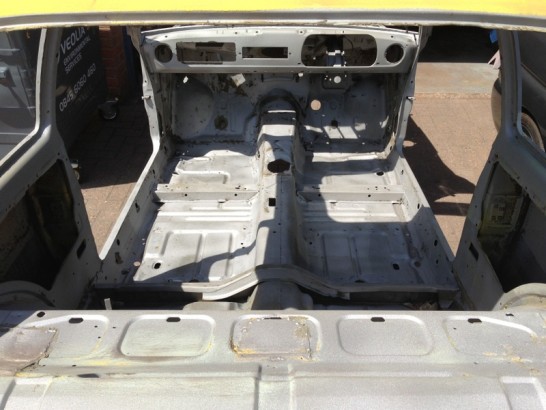 Back from blasting and no real surprises,the shell has some corrosion of the rear lower quarters and the odd few holes but very solid.
Some odd repairs to the transmission tunnel will need to returned to normal.
Two new inner and outer sections of the rear quarters are grafted into place.
Some new captive nuts needed to be fitted into the gearbox mounting points.
Both the radiator towers need to be replaced with some new standard items.
The tunnel has been returned to standard using salvaged parts from another Escort.
All the additional holes that have been added over the years are removed.
With the underside repairs complete a light coat of stonechip the floorpan and engine bay is ready for a coat of Diamond white.
Comments
comments
WANT TO KNOW MORE?
We do regular updates on our facebook page
Just click like to make sure you stay in touch!